I don't know what to do. I know that it's an hour after this "rabbit hole" day, which is what is scaring me. I thought it would be over by midnight... but no. I'm still here. I'm still... pixelated. I guess I should start at the beginning.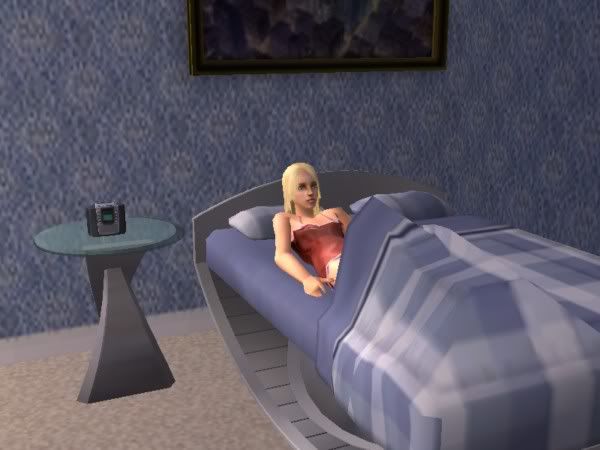 So, I wake up this morning. And my sheets just... pull themselves off me, which isn't exactly normal.



And then I realise nothing is really normal. I'm pixelated.

And, also really skinny, and wtf am I wearing?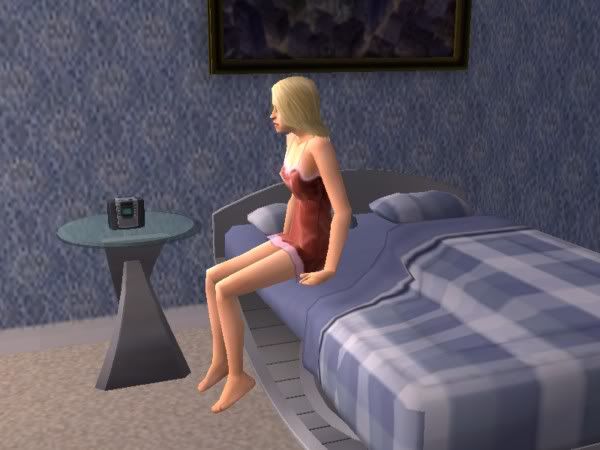 So I figure it's a dream, and close my eyes to make it go away, like anyone would.

But no, still pixelated, still scarily skinny, and still wearing freakish lingerie.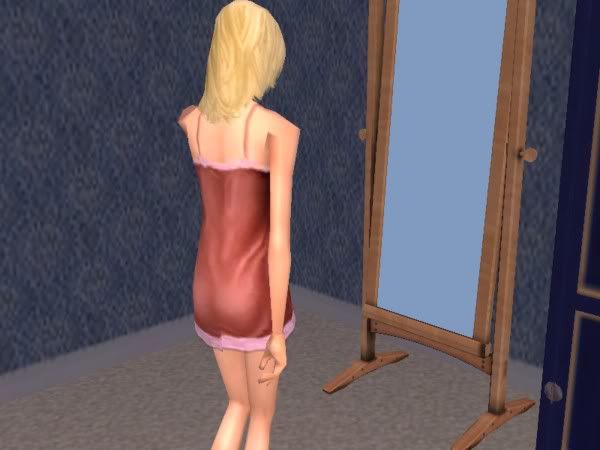 I go over to the mirror.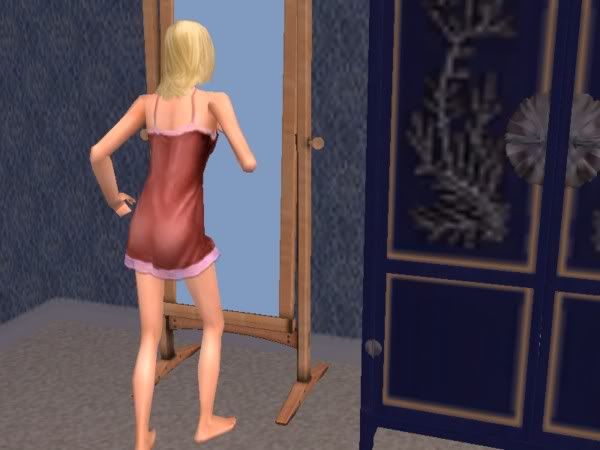 And then yell at the mirror, because it's not ACTUALLY a mirror, which I'm sure bugs the hell out of my sims. It then occurs to me that my sims are putting me through this, as revenge for all I've put them through. Oh, ha ha sims, but I do not think this is funny.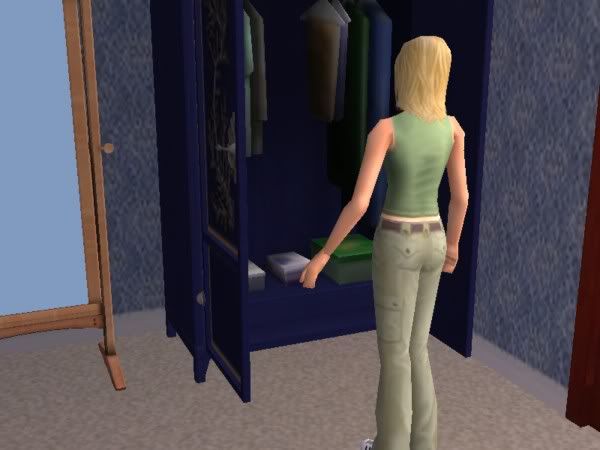 Of course, my sims don't answer me, so I go to see what's in the dresser, as I don't want to walk around in that thing for as long as my sims decide to torture me.

That's better.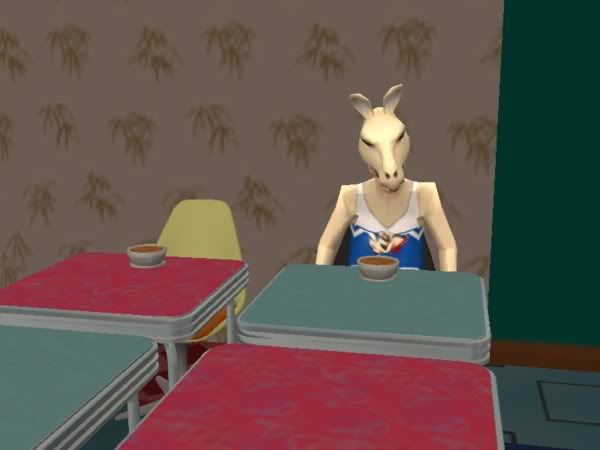 So, I leave the room, and enter the most hideous kitchen that has ever existed. Also, there happens to be some kind of llama sitting at the table. Or maybe it's a donkey. A white donkey. I guess this is explained by the fact that my sims have never seen real animals.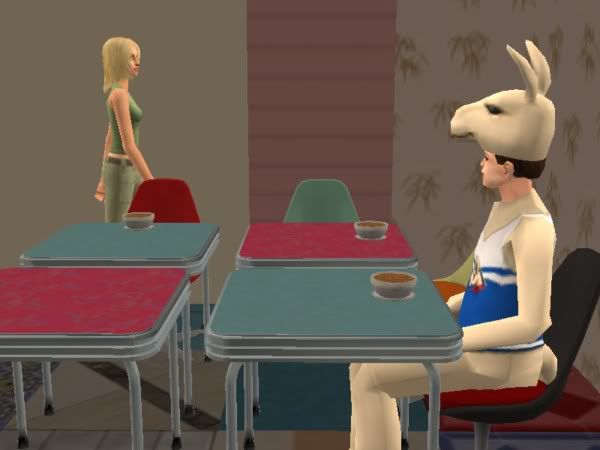 I cautiously enter, and the "white donkey" looks up, and I see that it's really just a guy wearing a donkey costume.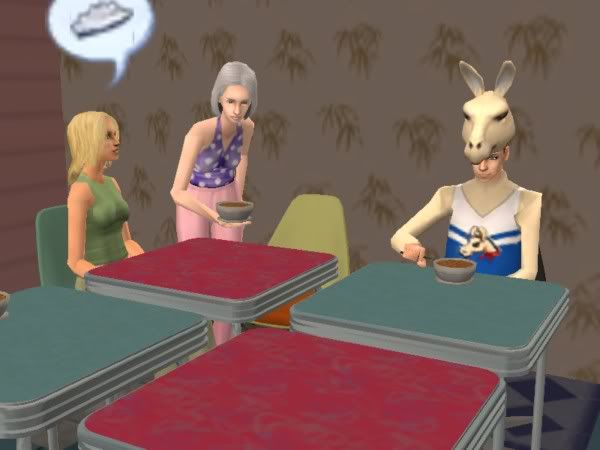 I see no way out of the room, so I sit down, and an old lady appears out of nowhere to tell me to eat this cereal. I'm smarter than that.

"So, erm... nice weather we're having. You know, the weather that doesn't actually exist in the sim world... It's nice," I say.

The donkey-man just nods, and keeps eating.

"Okay, I have to ask, why are you dressed up like a donkey?" I say, poking at the cereal infront of me.

"I am not a donkey" he replies haughtily. "I am obviously a rabbit. Otherwise this whole thing doesn't really work, does it?"

"You look like a donkey," I answer.

"Do not."

"Do too. And where's your pocket watch? And wasn't I supposed to fall through some kind of hole?"

"Fine, okay? We're low budget. Your sims may be rich in the sim world, but it turns out that one simoleon is worth about 2 US cents, which means I had to go to the nearest costume store, who happened to be out of rabbit costumes, due to this stupid LJ rabbit hole day," he says, getting up and putting his dish away.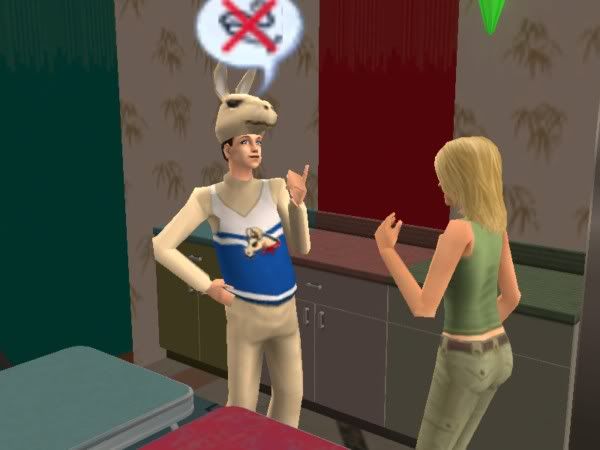 "So it is my sims," I mutter to myself.

"Yeah, although I don't think I was supposed to tell you that... they wanted you to think you had gone off the deep end," he says.

"So what the hell am I supposed to do now? I mean, I have work to do. Not real work, obviously, I have like... icons to make, and I haven't done a sims update in forever -"

"I think that was the problem," the donkey-man points out. "They're getting really bored."

"Argh!" I yell. "This is just annoying, they should be off making more friends, not planning to make me into a SIM."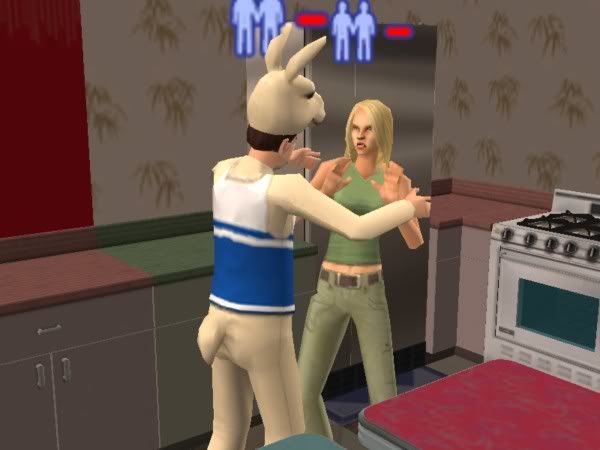 "C'mon, hug it out," he offers.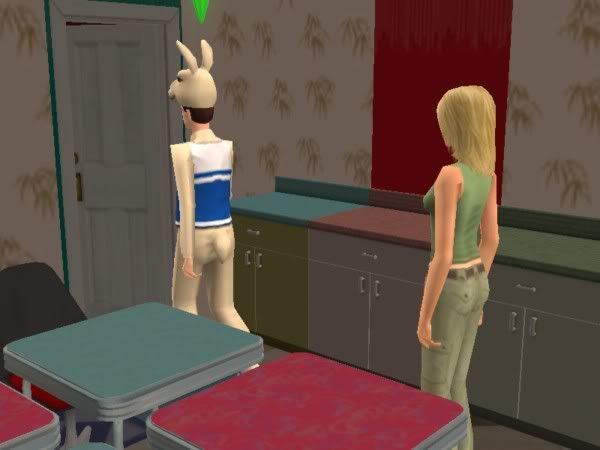 When I refuse, he turns away, and I see a door has appeared on the wall.

"Fine, follow me," he grumbles. "Wait. No, I mean, I am so late, I must go! Okay, now you follow me."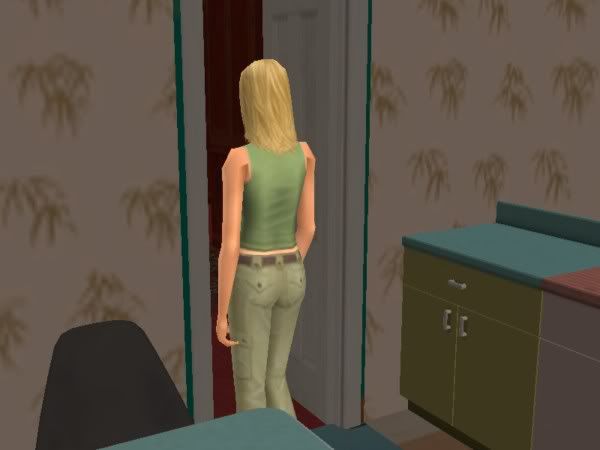 So I do.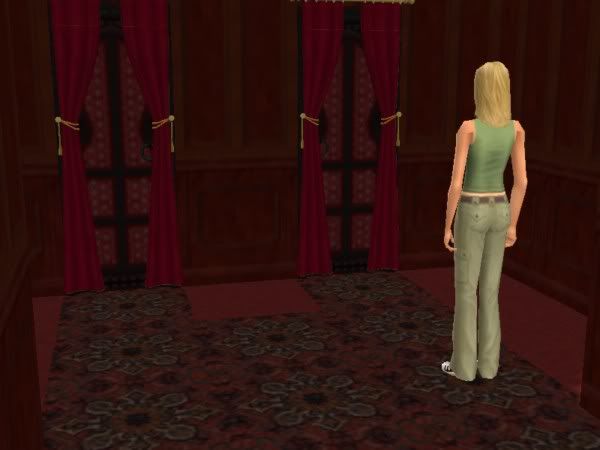 ...Two doors, no way out. How completely unoriginal.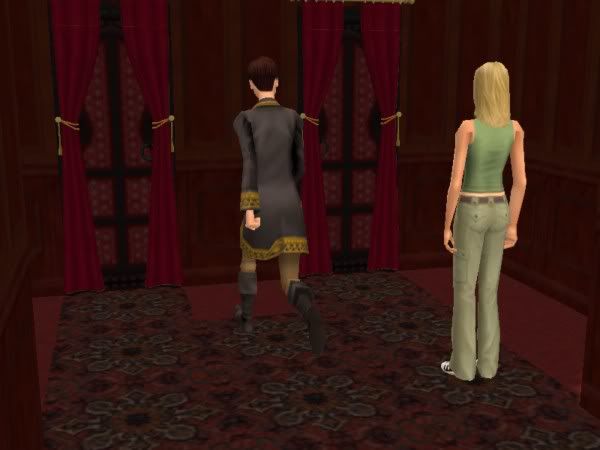 "Wait - Wait for me!" shouts a voice from behind me.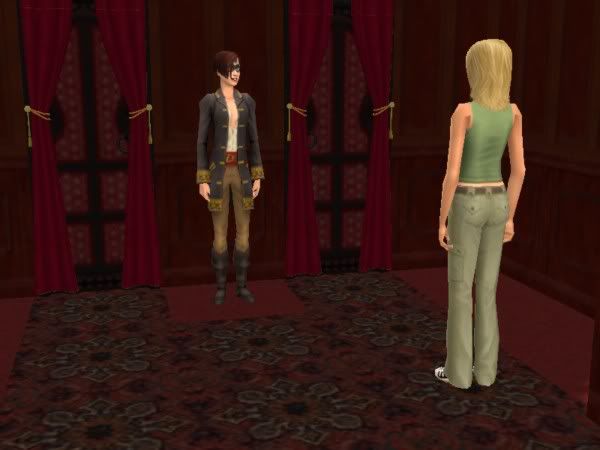 "Hi, sorry about that," she says, and then her voice drops into a dramatic tone. "I have a task for you, that you must complete before you may continue. You have two doors to choose from."

"Uh huh," I answer with a sigh.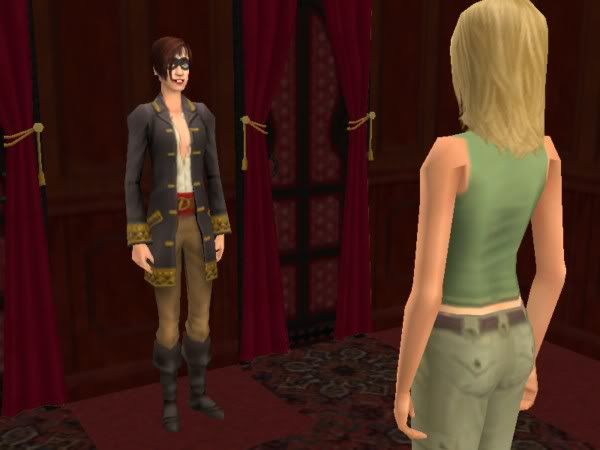 Then silence. She's staring at me, with that buck-toothed grin that's really freaking me out.

"So... am I just supposed to choose, or are you going to tell me what's behind each door?" I ask impatiently.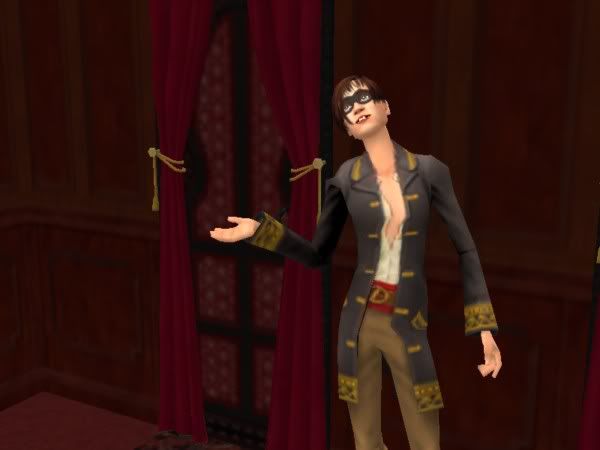 "Oh. Right, ahem. Behind this door, is a sight that some have only dreamt of. Draco Malfoy. In assless chaps. And only assless chaps," she announces proudly.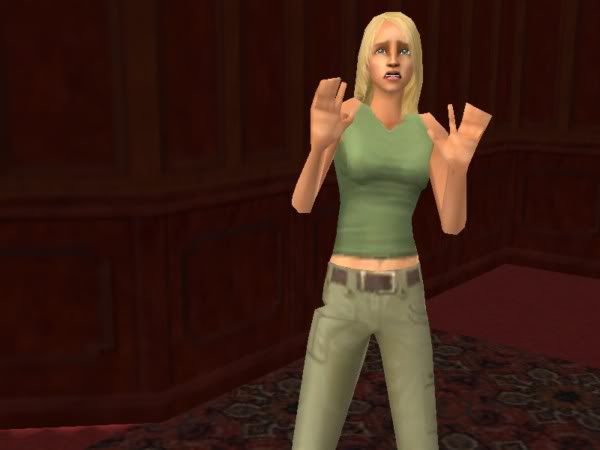 "Accccccckkk!" I scream in disgust.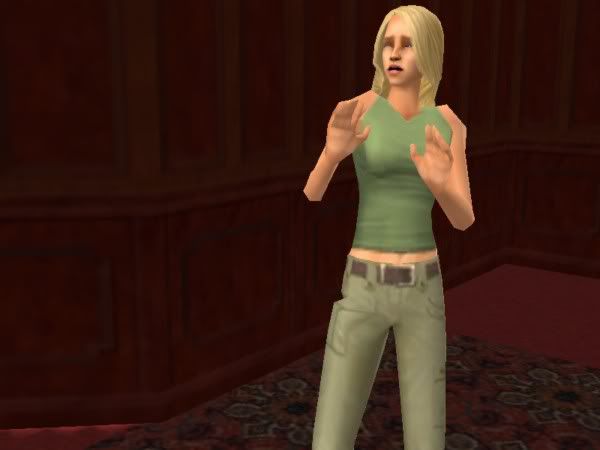 "Please, no. No, no, anything but that."

"Oh," she answers, sounding deflated.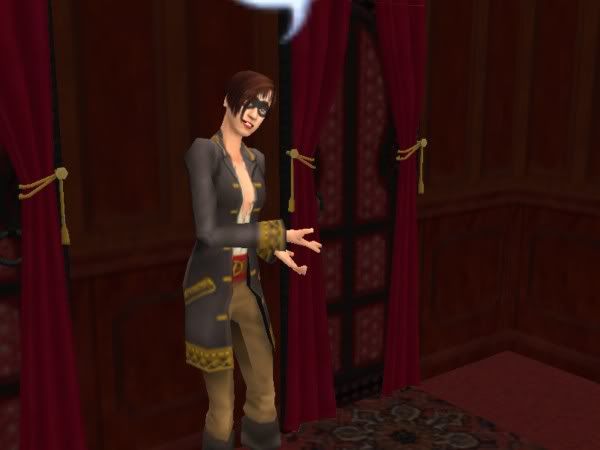 "Well, then there is door two, which is a most gruesome of horrors. Kreacher, Winky, and Dobby, the houselves, in a bath together," she says, sounding just as disgusted at the image as I was.

Oh, my sims were really low. They knew about that fan fic. I should never have given them computers.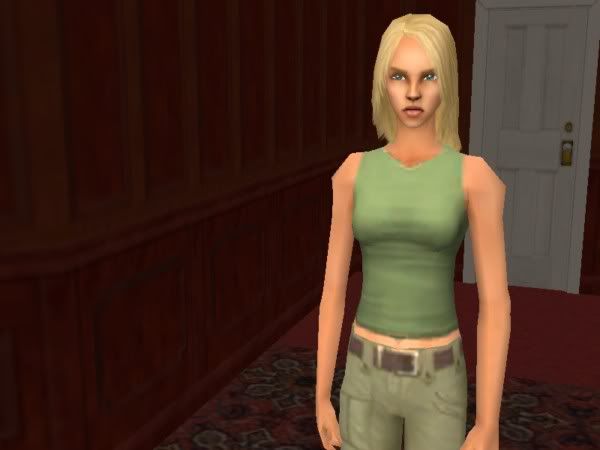 "...I don't believe you," I say weakly.

She opens the second door a crack, and a loud squeaky voice from inside says "You is needing a bathing of love!!"



"Ewwwwww" is my only response.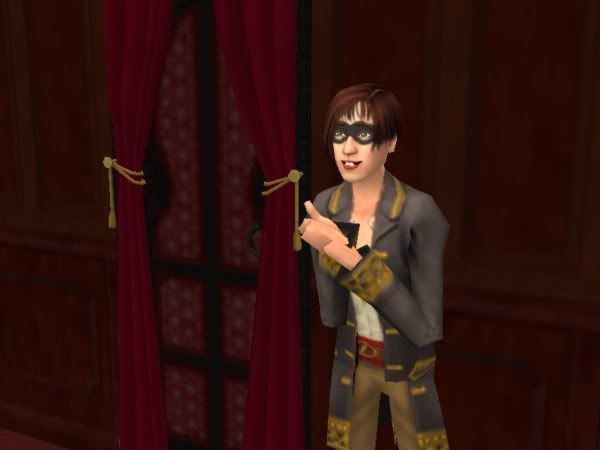 "So you choose door one, right? I'll let Draco know -" she starts, but I shake my head.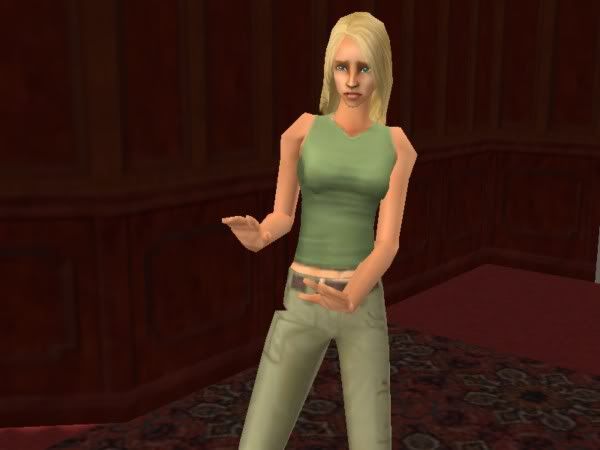 "NO! No, I'll, um... I guess I'll go with the house elves..." I say, still revolted at the thought, but I'd rather be put through that than whatever Draco in Assless Chaps would have in mind.

Before the girl can protest, I close my eyes and push the second door open.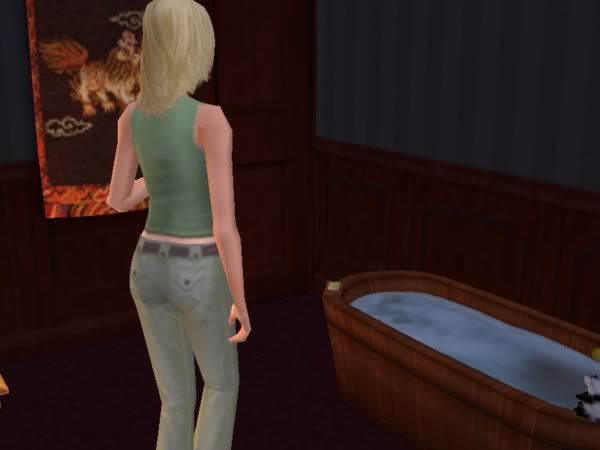 I reluctantly open them once inside, and see that in the room is only a fireplace, and a bathtub that's still full of water, but no house elves. I look at the floor and see tiny little footprints leading from the bathtub to the door.



Relieved, I follow the footprints out the door, hoping that the house elves will be far away by now.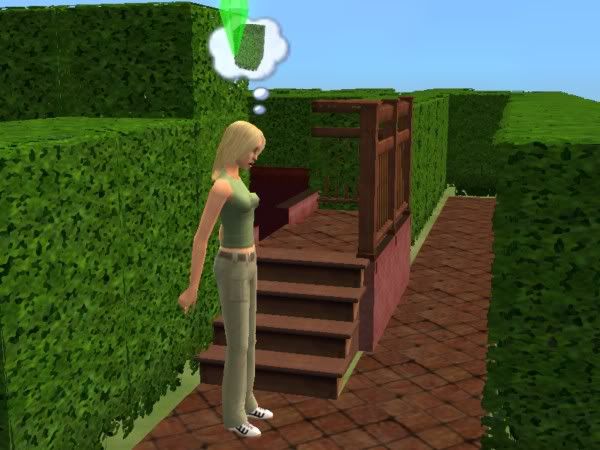 And outside, I find a garden maze. I really need to work on my sim's imaginations. Realising that I have no idea how to play croquet, I consider going back inside and trying to work my way back through the house to find my bed again.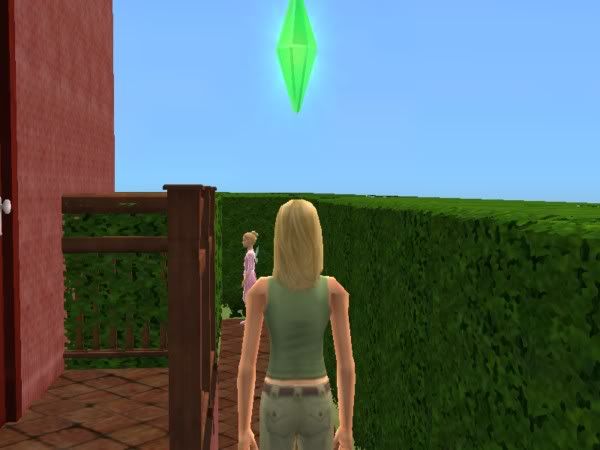 But then I see a fairy standing across from me. Okay, not a real fairy, but it was a little girl dressed up in a pink fairy costume, which was pretty cute anyway. So, I follow her through the maze, until we get to a pond that sits in the middle of the maze.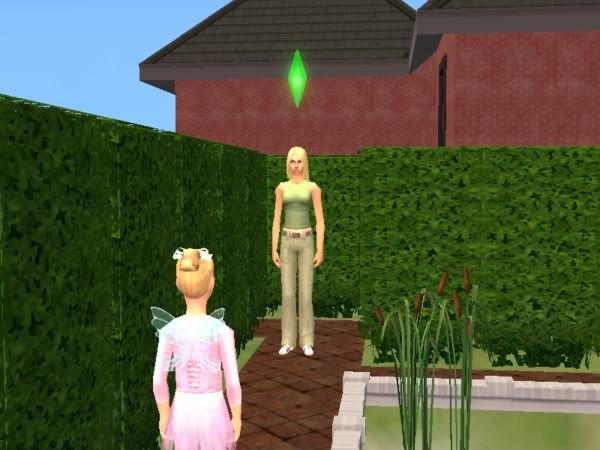 "Hi!" she says brightly.

She's already doing a better job than the donkey man.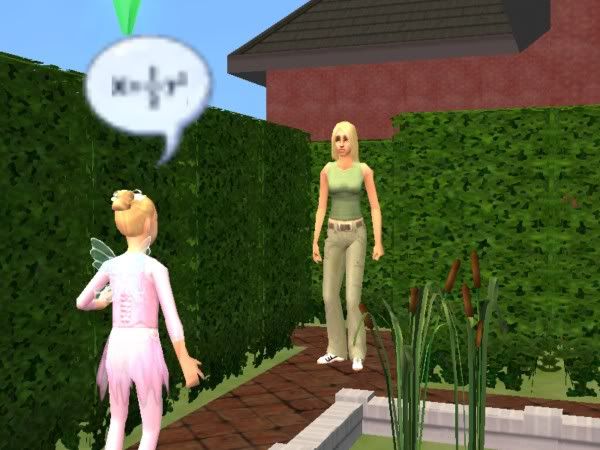 "Where are you going?" I ask her.

"I dunno," she says, sounding worried. "I think you're the lady I was supposed to find. But, the man said I was supposed to look for a grouchy old lady who had 'severe omnipotence issues'. I don't know what that means. Is that you?"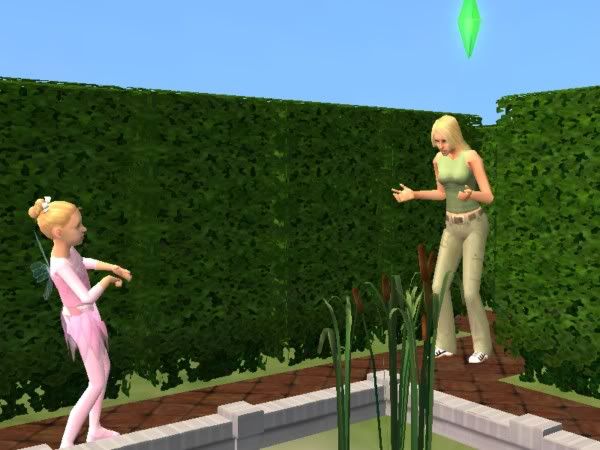 "Probably, yeah. Who told you to look for me?"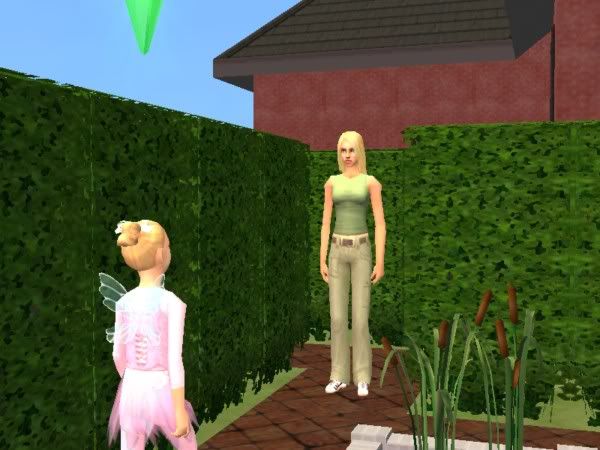 "The man had black hair, and really funny glasses, and there was this red-headed girl with him... she seemed pretty angry - Wait. You've passed through the doors already, haven't you?"

"Yeah, why?" I ask cautiously.

"What were the choices?" she asked, her face lighting up.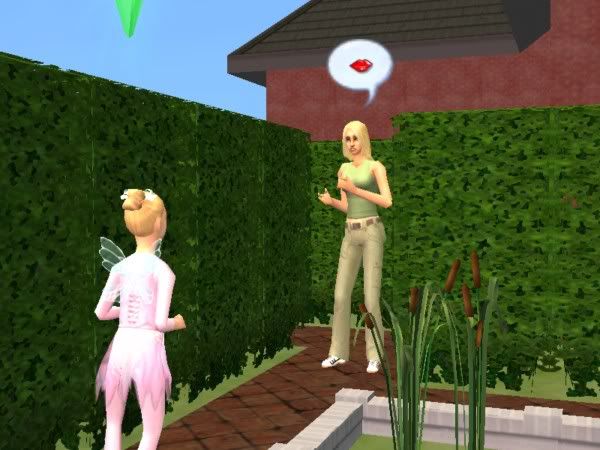 "Uh, well, Draco Malfoy in... leather pants -" I start, but she interrupts me with a gasp.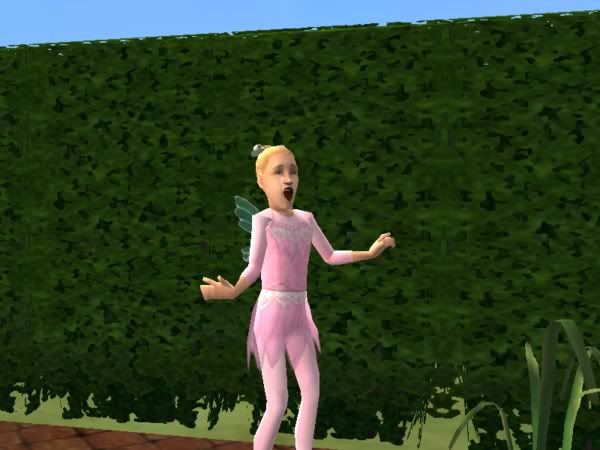 "OH MY GODDDD!!!" she screams, in a voice that's much older than one she was using a minute ago.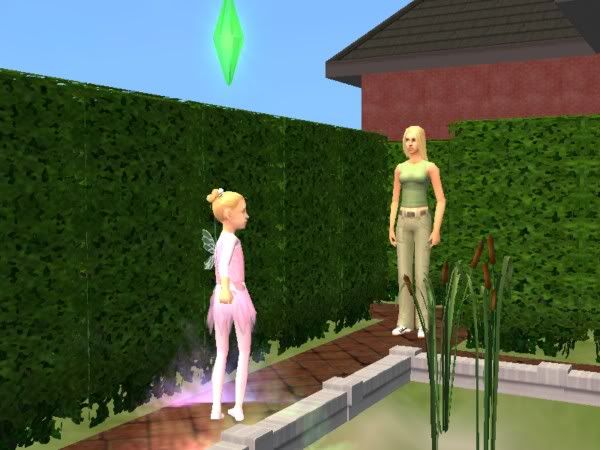 Before I can even ask her what she's screaming about, her feet start to glow.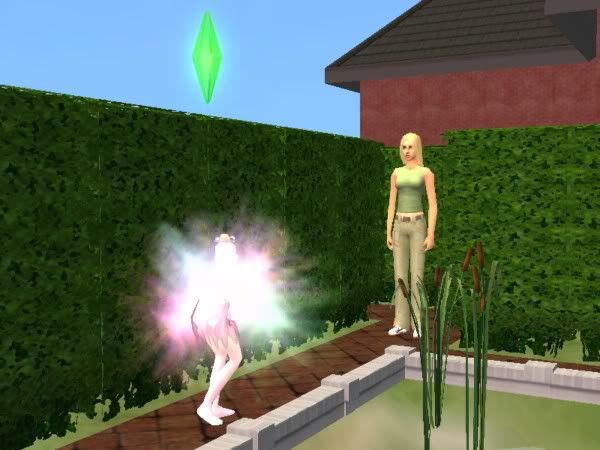 And then her whole body.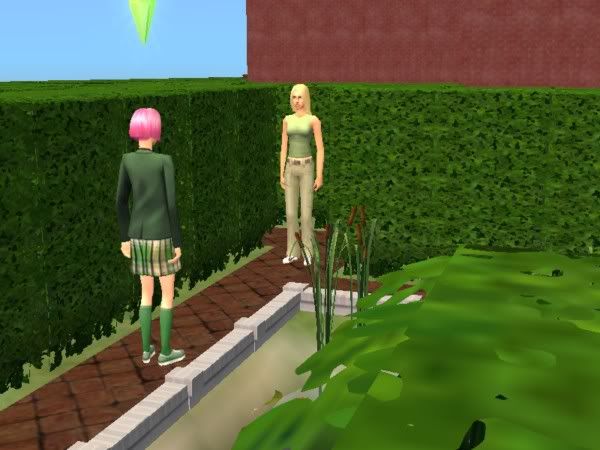 And then standing in the cute little fairy's place is my true nightmare.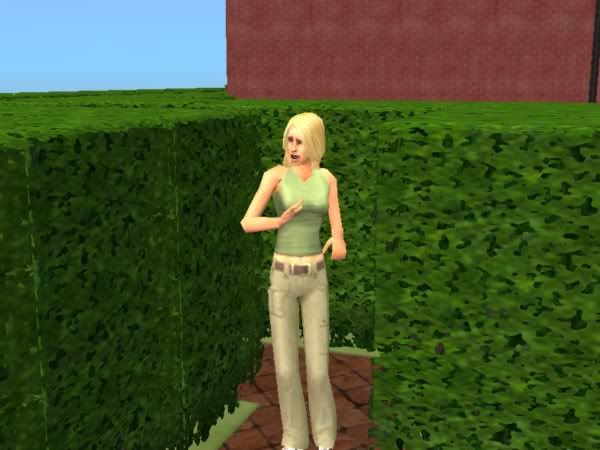 "Are you... who I think you are?" I ask.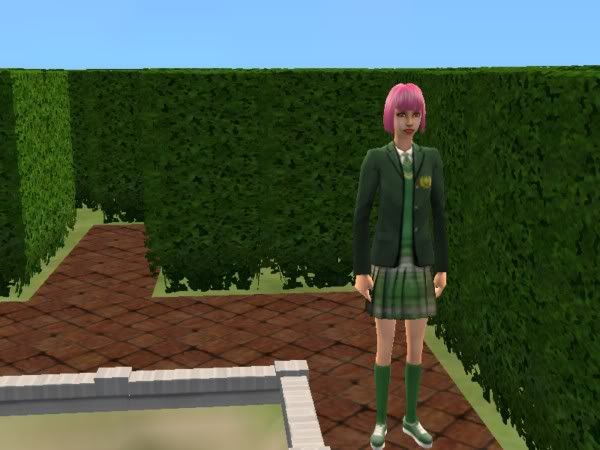 "My name is Azure Icicle Elezerna Cyan the fifth from the -

I immediately bolt around the other side of the pond, and into the maze.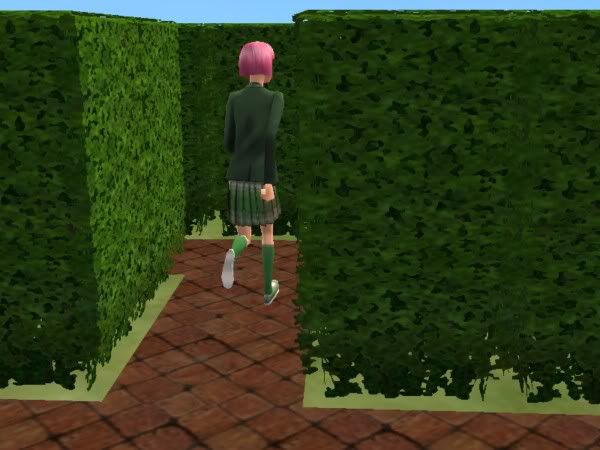 "I'M FROM THE AMERICAN SCHOOL OF WIZARDRY WHERE I RECEIVED THE HIGHEST MARKS IN ALL MY COURSES" she shouts as she follows me. "ALL OF MY FAMILY DIED TRAGICALLY, AND MY GODFATHER IS UNCLE SNAPE. HE IS KIND OF HOT, EVEN THOUGH HE IS MY GODFATHER, AND HE BROUGHT ME TO HOGWARTS!!"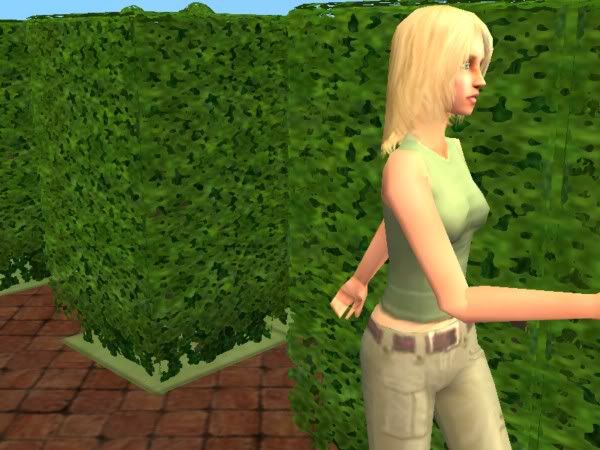 I can still hear her through the hedges.

"THE SORTING HAT DID NOT KNOW WHERE TO PUT ME, SO I DECIDED TO BE IN SLYTHERIN, BECAUSE MY TRUE LOVE IS IN THAT HOUSE"

I reach a dead end and turn back to try another course.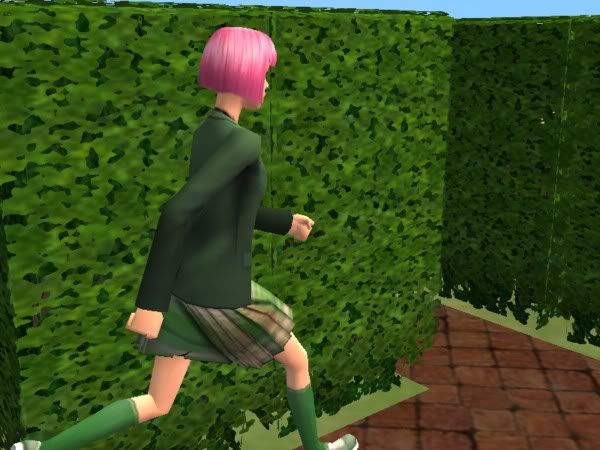 "HIS NAME IS DRACO MALFOY. HE IS HOT. HE IS ALSO VERY NICE TO ME, EVEN THOUGH HE IS NOT VERY NICE TO THE OTHER PEOPLE IN THE SCHOOL!!"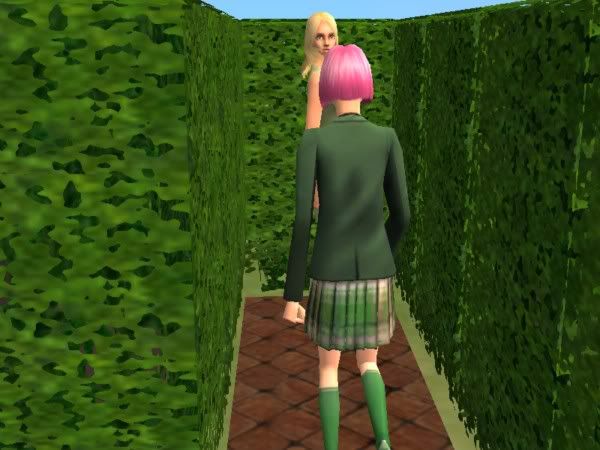 She corners me.

"HE SAID MY EYES SHINE LIKE RUBIES IN THE EVENING SUN, AND THEN WE MADE OUT! AND THEN I SAID I HAD TO GO, CAUSE I HAD NOT MADE ANYONE JEALOUS YET!!"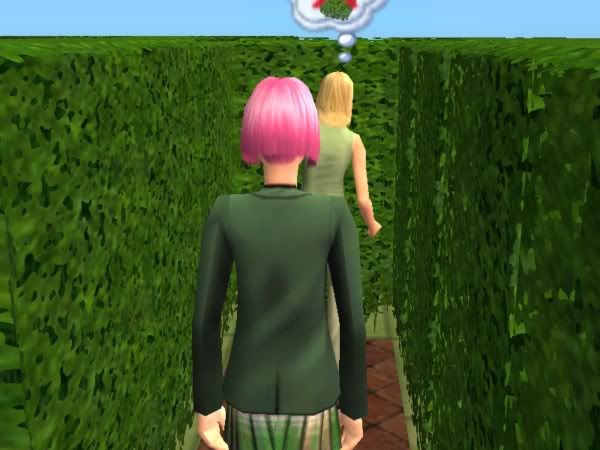 "DAMN YOU SIMS!" I yell furiously.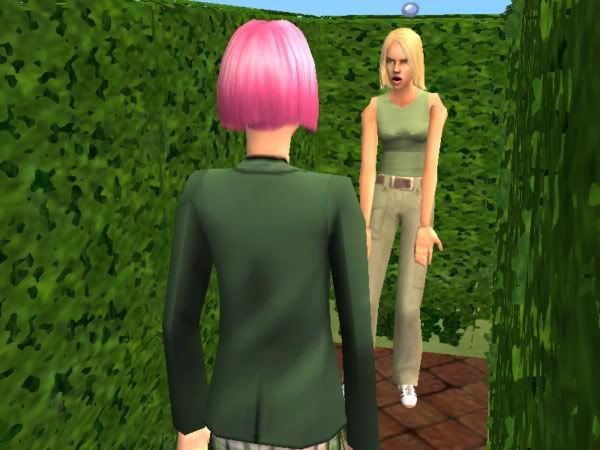 "MY WAND IS MADE OF UNICORN BONE, DID YOU KNOW THAT? IT IS THE PUREST FORM OF -"

"STOP IT!!" I scream. "STOP IT, I DON'T CARE!!"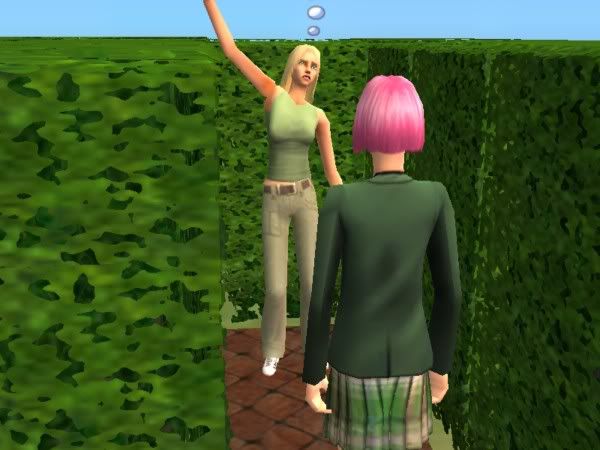 "YOU'RE JUST A FICTIONAL CHARACTER, YOU'RE NOT EVEN PART OF THE BOOKS, YOU -"

And then I black out.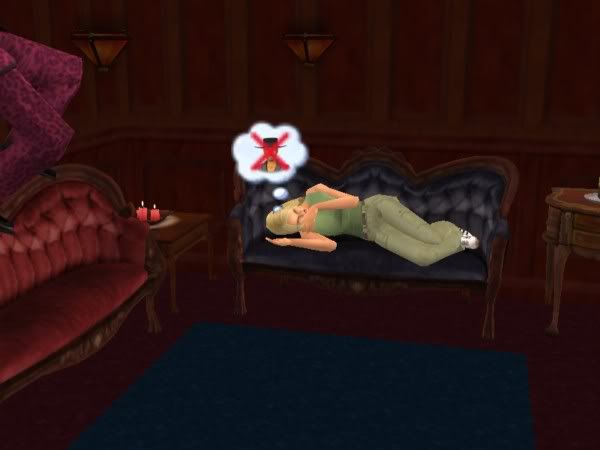 When I wake up, I can hear springs bouncing and whining under pressure.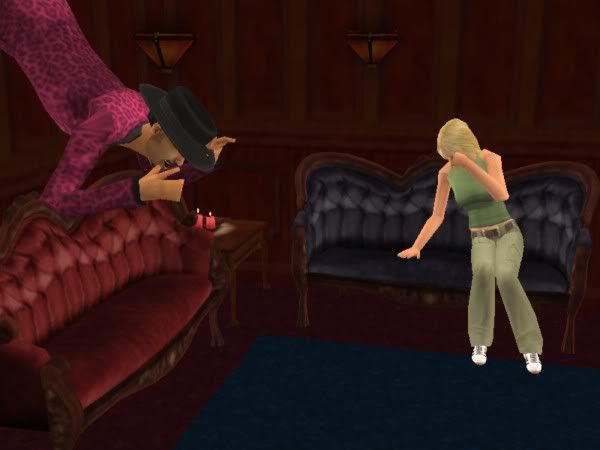 I sit up and... there's a pimp doing somersaults on a loveseat next to me. I ask him where the hell I am now.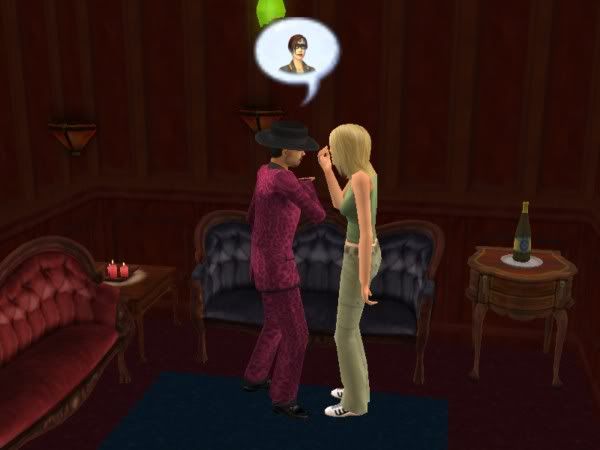 "Hey, boo! You be in... my room... of love?" he says cautiously.

"Room of love? Right, so let me guess, you're not really a pimp, and my sims hired you to pretend to be one, correct?"

"Well, yeah," he confesses without the pimp accent. "Except for the sims part. I was hired by Draco, actually."

"You talked to Draco?"

"Well, Draco in his disguise."

"His disguise? Who has he been pretending to be?"

"You met that 'woman' by the two doors?" he asks, and when I nod he continues, "that's him."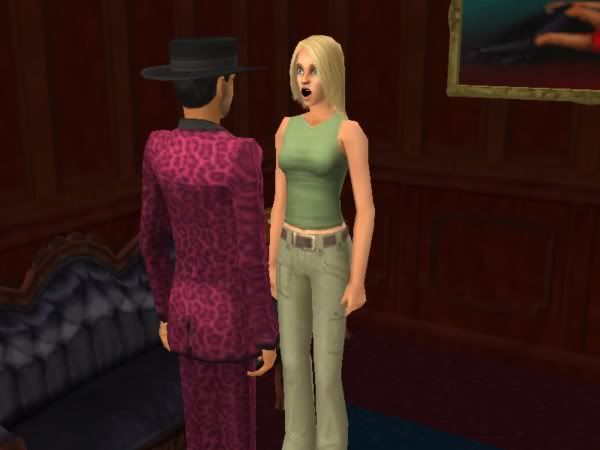 I eventually recover from the laughter that followed the shock.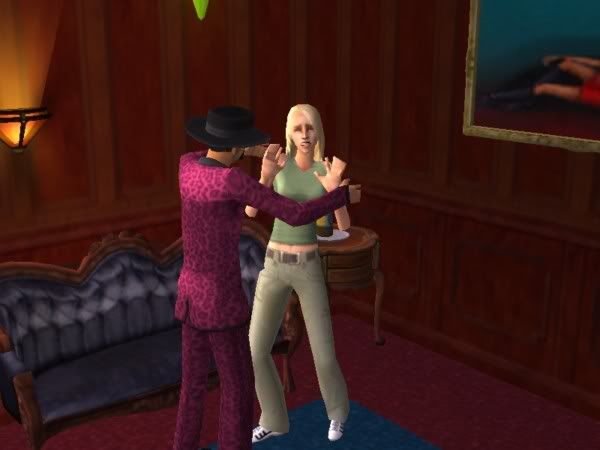 "Lend a brothah some sugar," says the "pimp".

I walk out of the room, hearing the springs of the loveseat squeaking again as I walk into the next room...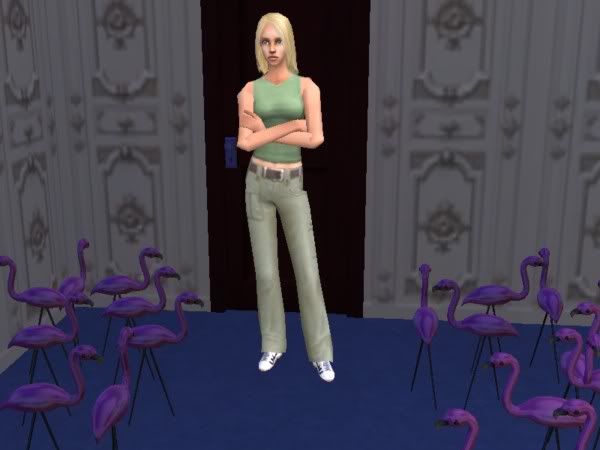 Which is full of flamingoes. The plastic lawn-ornament kind. By now, I half-expected one of them to talk to me.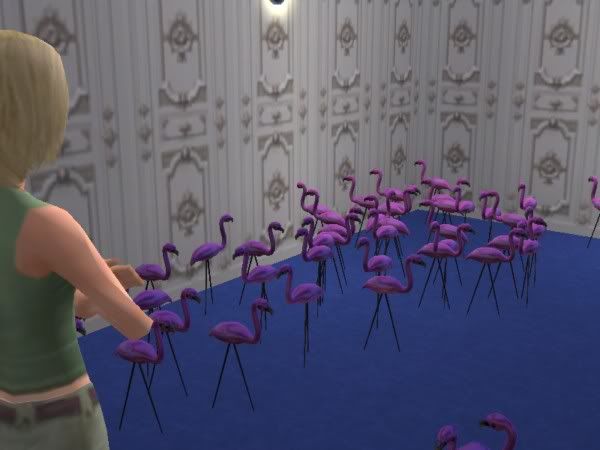 I stay in my spot, staring at them for a few minutes, before I realise that nothing's going to happen.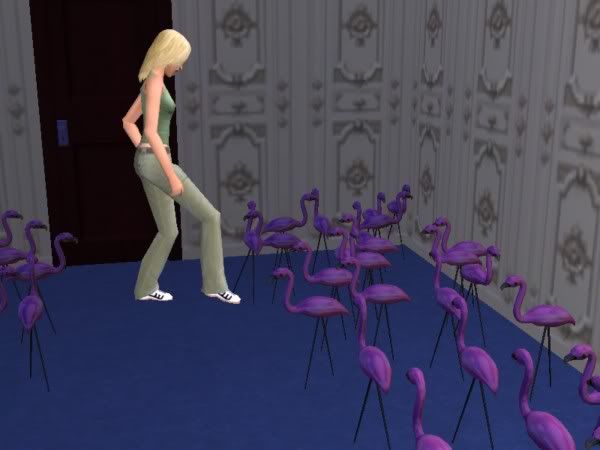 So I kick one of them. Lightly though, because if they do turn out to be real flamingos, I don't want it to peck me to death.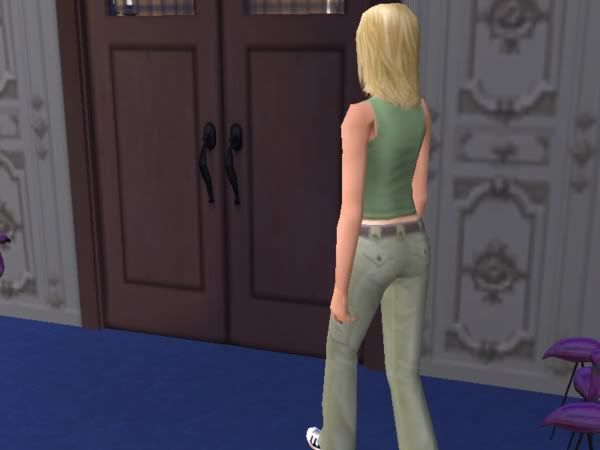 And then push open the double doors at the other end of the room.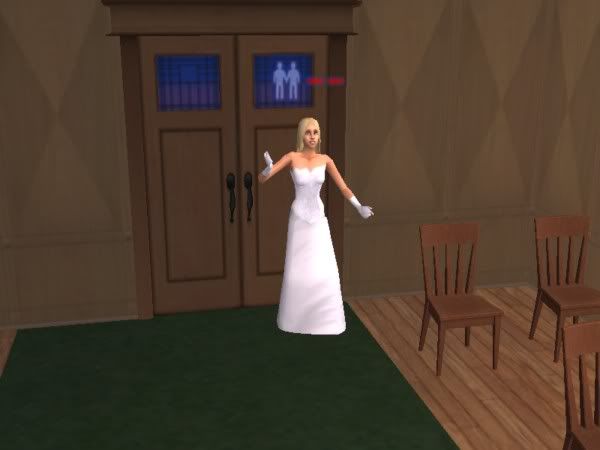 Suddenly, I'm wearing a wedding dress. A pretty nice one, with some nice beading at the top. But still, it's a wedding dress. And I have no desire to get married today.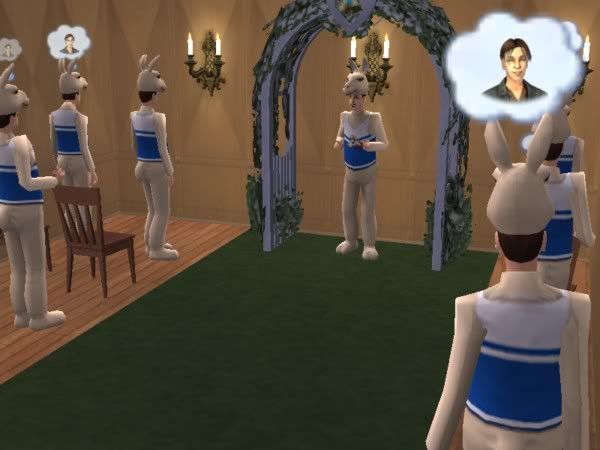 Especially when I see who's waiting for me at the altar.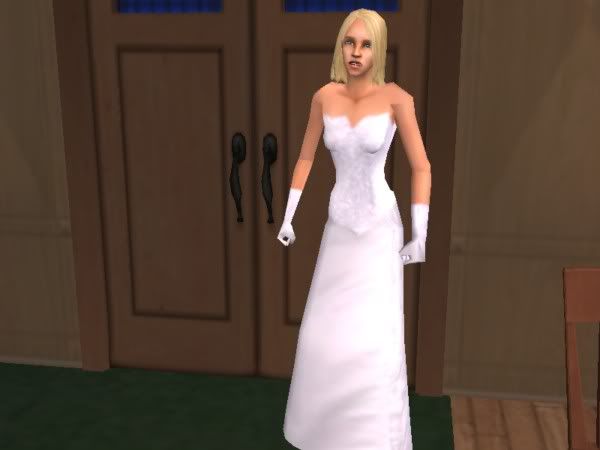 "You have got to be kidding me," I say, feeling more like I was on a freaky acid trip than I had all day.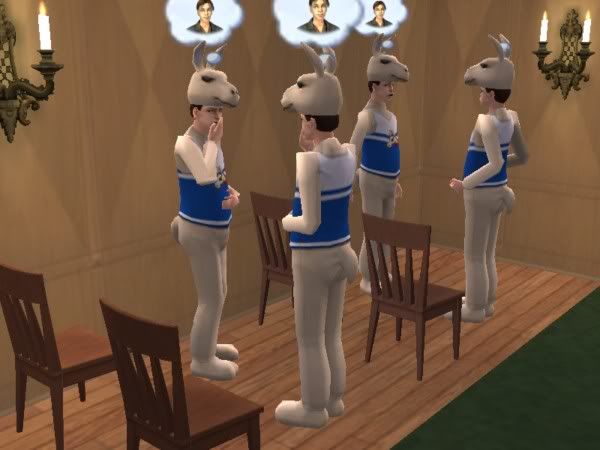 But then all the guests at the "wedding" seemed to realise that they were all clones of each other. They turn to each other in disgust, and before I know it, there's a riot going on.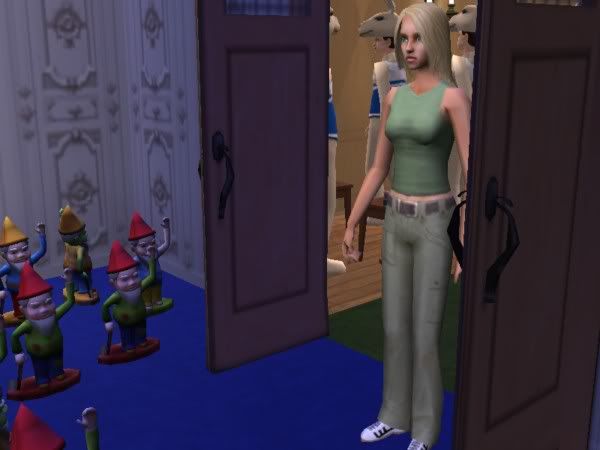 I take the opportunity to run out of there, and when I leave the room I was back in my former clothes.

And now the flamingoes are all gone, and instead of them are lawn gnomes. Almost a hundred lawn gnomes. All with creepy little eyes and tools that looked pretty sharp.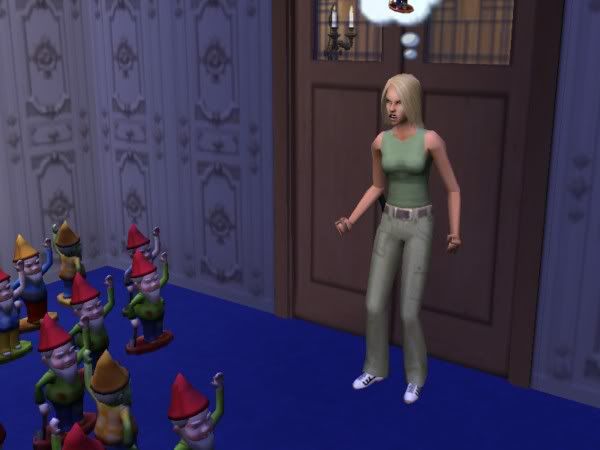 "Stop it with all this MADNESS!" I shout to the sims I know are watching me. "Stop it now, or I swear I will make you all drown, or die by flies, or something NOT GOOD!!"

No answer.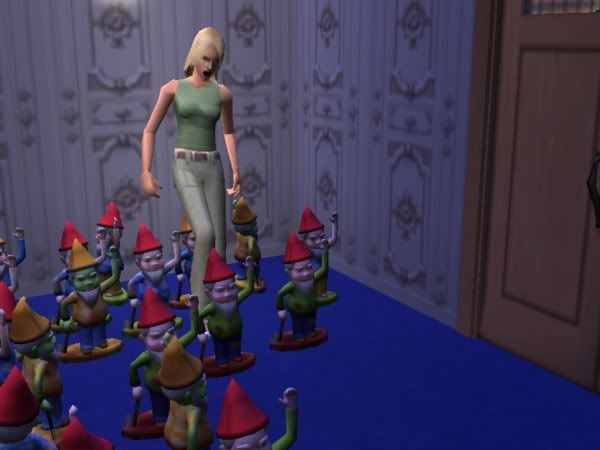 So out of frustration, I kick a gnome that looks like it's smirking at me. Fucking gnomes.

I run out of that room before the gnomes could come alive and kill me, because I don't know just how far my sims were willing to go with this. Plus, even their hats looked sharp and pointy.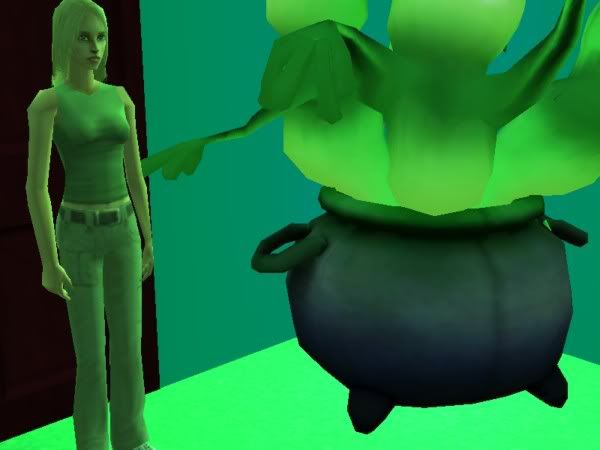 And then I'm in a neon green room with who-knows-what in a giant cauldron. But there's a computer and desk in the corner.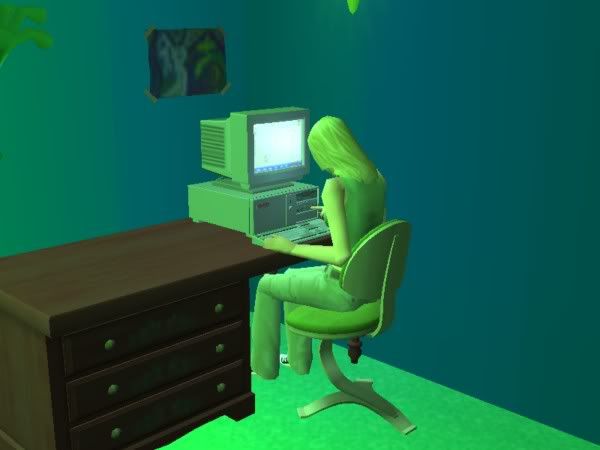 And that's where I am now.

I can hear music coming from the other door. Someone's playing a guitar. And singing... is that a Hilary Duff song? Oh god. I think it's the sue. I am going to cower in here until this is over. Maybe I'll try to go to fall asleep, then when I wake up it will be over. Right. Trying that now.